Pittsburgh Steelers Hoodie 3d V3
T-Shirt Hoodie Sweatshirt Unique design for Christmas, Valentine's day, St. Patrick's day, Mother's day, Father's day, Birthday. You can gift it for mom, dad, papa, mommy, daddy, mama, boyfriend, girlfriend, grandpa, grandma, grandfather, grandmother, husband, wife, family, teacher. and buddies on special days.
Original designs exclusively for LUXWOO.COM.
every order is hand-crafted specifically for you.
Printed using a customized sublimation process to ensure lasting, vibrant colors and quality.
Each of our product is constructed from a premium polyester blend that is ultra-soft and incredibly comfortable.
Features a specialty high definition heat-dye application that ensures long-lasting color vibrancy even after machine washing.
Fabric is durable and resistant to wrinkles, shrinking and mildew.
Product is custom printed, cut and sewn just for you when you place your order – there may be small differences in the design on the seams and /or arms due to the custom nature of the production process!
Washing Condition: Dry clean, hand or machine wash are also acceptable. Dryer-safe without any fading, peeling, or wrinkling, quick-drying.
Choose a size from the table below.
This is Unisex US size. Height and weight are just suggested.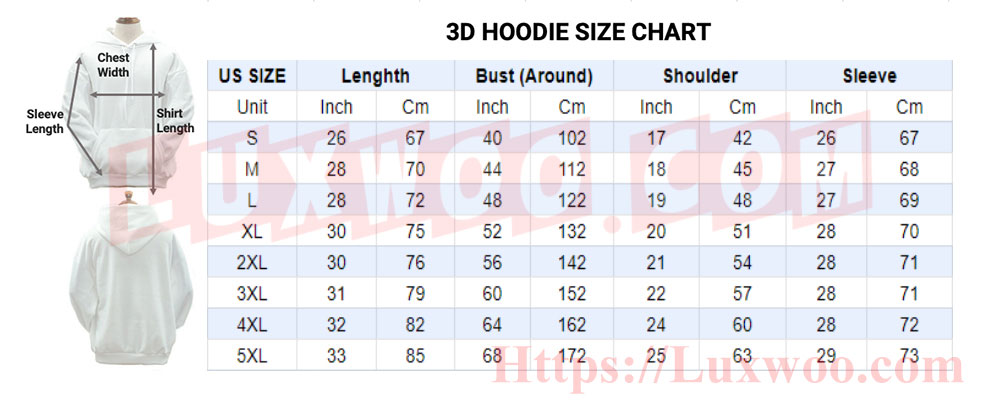 *TIP: SHARE it with your friends, buy 2 shirts or more and you will save on shipping – Ship Worldwide!